In a month when we welcomed Jerri Ng as Head of Fashion & Beauty, we've travelled far and wide.
From Macau to Singapore, Dubai and the Maldives to Cannes, back to Shanghai via Hong Kong and Beijing... we could go on but let's take a minute to mark May!
Reuter: Intelligence, our research & insights division, has released two reports on the luxury beauty market in China.
The New Face of Beauty in China spoke to over 300 beauty consumers in first-tier cities, via online surveys, offline focus groups and big data analytics, looking at what's driving preferences and buying behaviours for Millennials and Gen Z.
LuxePulse: Beauty is a market report that provides analysis and news on campaigns, market trends, online-offline case studies, influencer collaborations and more, in an annual subscription to four quarterly reports.
As well as on beauty, LuxePulse: Fashion and LuxePulse: Hospitality are also available – contact research (at) reutercomms (dot) com to find out more.
Thanks to everyone who was part of the launch events at The Middle House in Shanghai and The Upper House in Hong Kong!
What can we say about the Maldives except we love it? The Waldorf Astoria Ithaafushi resort is opening soon, and a select group of Chinese media and influencers were lucky enough to get a first glimpse, sharing the entire experience with their followers and showing us just what paradise looks like.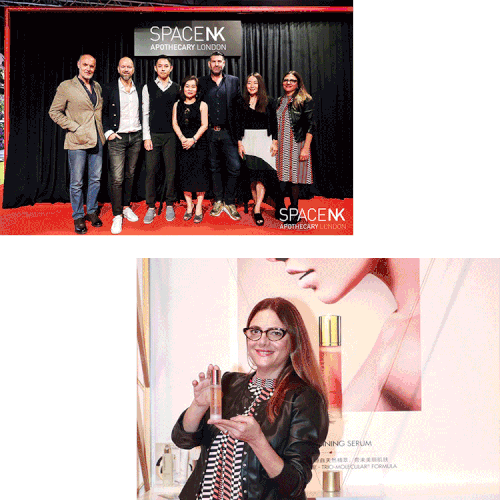 Space NK created a pop up art exhibition for consumers to experience 50 beauty brands, with mood-boosting make-up sessions, fragrance-making and immersive experiences over four days open to the public.
Too Faced celebrated their new retail space at Facesss of Harbour City, Hong Kong, with buzz of the opening catalysed by diverse influencers and senior figures in the worlds of beauty and shopping.
At the China Beauty Expo 2019, Babor CEO Michael Schummert and President & COO Asia Pacific Klaus Redomske attended, holding exclusive interviews, before a dinner with leading beauty influencers and chief editors.
Senior management visited our Dubai office, presenting China luxury briefings to the region's leaders in hospitality, arts and retail. Regional Account Director, Jeremy Tran, also spoke at the Arab Travel Mart in Dubai, talking about how brands in the region can stay top of mind for their Chinese audience.
At The Middle House, Miao Wang, the founder and creative director of In Sharks We Trust – a sustainable swimwear label dedicated to shark conservation – co-hosted a private screening of Sharkwater, a film about shark-saving initiatives and how we can all get involved.
Following the first successful debut in The Opposite House in Beijing, the second stop of 'Encounters Across Cultures' by The House Collective of Swire Hotels landed at The Upper House.
In Hong Kong, local Feng Shui designer Thierry Chow worked with Swiss multi-disciplinary artist Katja Loher to present a new concept of Feng Shui with inspiring modern design.
The Promenade Shops at Galaxy Macau debuted DIOR PINK CITY, an immersive experience around DIOR's beauty icons and heritage. Stepping into a never-seen-before city, there was a floral world, a pink library, music hall and a pink café in a 'first-in-Macau' creation.
The Singapore Yacht Show is one of the industry's best times of the year to come together and establish key relationships and new partnerships, alongside the media dinners and shows that Benetti hosted throughout the two-day event.
As anyone who has been to a Chinese wedding will know, the gift chocolates are important momentos of the dinner. Now, wedding-goers in China will be able to enjoy Pierre Marcolini, thanks to the new wedding collection. Don't invite us unless you're giving Pierre Marcolini!
Over 120 media attended the Fall/Winter 2019 press preview at Sanlitun in Beijing. As well as pre-Fall and FW, DIESEL also displayed the Black Gold collection, Days Gone collection (Playstation limited edition), and Diesel Living decoration.
Maison Margiela held their first ever press preview in China. At the C5 Gallery in Sanlitun, the Contemporary line, MM6, pre-Fall and Fall collections were previewed to over 80 senior media editors, bloggers and creatives.
Invited as the ambassador of Qeelin, China's leading actress Sandra Ma took to the red carpet wearing Alexandre Vauthier 2018 Fall Couture from Farfetch.
Star actor Yuan Hong, AKA Justin Yuan, was invited to the 72nd Cannes Film Festival. He was seen wearing Lanvin, the French fashion house that, starting in 1889, makes it the oldest French house still in operation.
What a month - and that was only some of it! Hello June!