Dominated by the most important time in China's calendar year, February was fun! Cold, but fun!
February began by talking to the leading figures of luxury in London. Our Founder & CEO Chloe gave a presentation at the Walpole 'Future of British Luxury' event, before speaking on how luxury in Asia is changing the game at the Richemont Global Conference.
The Luxury Conversation – Reuter Communications' business intelligence platform – hosted its own Breakfast Briefing in London, held at Harrods. An invitation-only audience of senior people from brands, agencies and media attended – tap 'read more' at the foot for the Briefing review.
Our research division, Reuter: Intelligence, expanded its offering with a regular China Luxury Briefing. Giving insight on the most important news and reports, it keeps our clients in the know regarding key issues facing specific sectors and luxury overall.
Chinese New Year was celebrated all the way in the Middle East, with Dubai's Burj Al Arab getting into the Spring Festival swing – lion dances and Chinese performances lit up the Arabian night sky.
Punctuation became pigs as national culture met subculture. DIESEL represented the youthful side of Chinese New Year with clever designs and urban style.
Mytheresa is a cross-border online shopping destination for women's luxury clothing, bags, shoes, and accessories. Via their official WeChat account, they spoke to their followers in China with localised Spring Festival and Valentine's content.
SENSAI wished their followers season's greetings, talking about their Cream Foundation and limited edition lipsticks that fans can look out for during their CNY travels. Beauty KOL store visits in London and Paris, with reviews on Xiaohongshu, WeChat and Weibo sparked a successful campaign.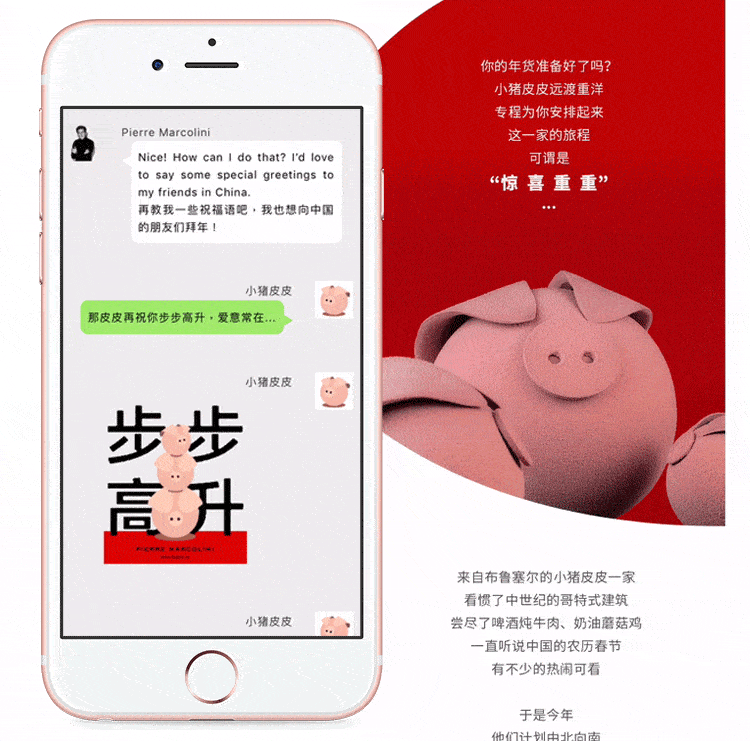 Our creative team conceived little piggies! Inspired by the Year of the Pig and the Belgian chocolatier, the team came up with these designs that let Pierre Marcolini get in touch with their Chinese customers on social media and show that even pigs can be chic.
On Valentine's Day, chocolates say it best, with Pierre Marcolini having some 'love letters' on their WeChat account.
OXO believes in better – better design, better functionality, better experience – and that's the message they brought to their customers in China during their last month's social media posts.
Congrats to our Regional Account Director in Singapore, Cindy Choo, on her recent wedding. A few of us flew from the Shanghai and Dubai offices to join Cindy and her family and friends for the big day!